Alberta landscaping: How to renovate your yard on a budget
Posted by Adam Fresh Realty on Monday, October 18, 2021 at 8:55 AM
By Adam Fresh Realty / October 18, 2021
Comment
How to use the principles of comfort and utility to renovate your yard on a budget, increasing the value of your home without breaking the bank. Plus, landscaping trends in Alberta to inspire you.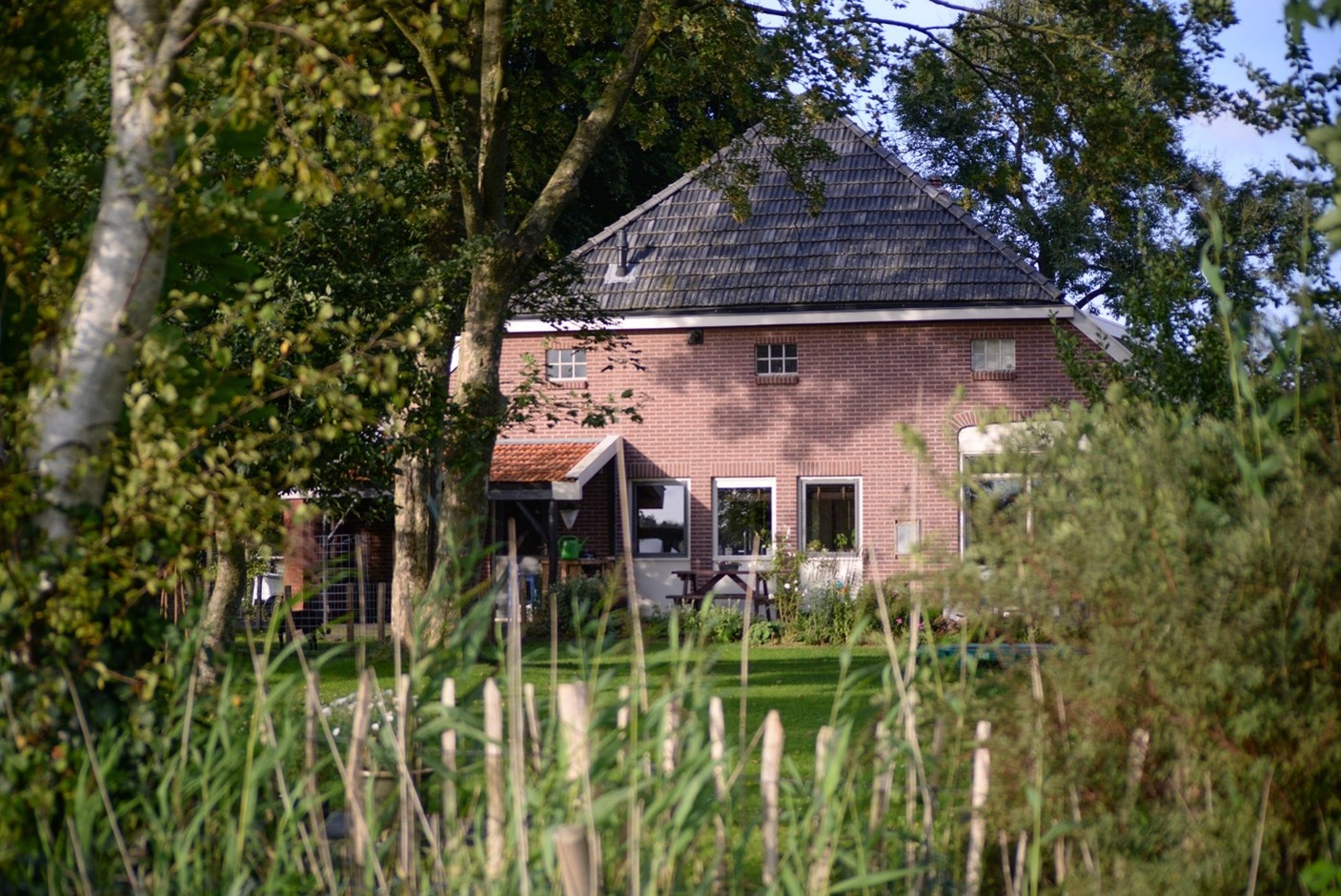 The end of winter equals more sun and freedom to stay outdoors, but it also means damaged plants, dead grass, pools and puddles, and other problems that on the surface appear expensive. To bring back health and vibrance to your backyard, you need not drain your savings. Instead, all you need is a little forethought, inspiration from current landscaping trends, and DIY magic.
Long story short, the foolproof method to renovate your back yard on a budget is:
Create a realistic budget and stick with it: do not guess numbers, instead, get quotes from professionals near you. Also, compare furniture, lighting, and object prices.
Take your time to plan and pay cash: you do not have to get yourself into debt, instead, save up for a renovation or do most of the work yourself.
Reuse materials and hunt for deals: thrift stores, architectural salvage stores, and antique stores -offer cheap outdoor furniture. Take advantage of that. You may also look for furniture at yard sales, garage sales, or estate sales.
Repurposed furniture, nighttime lighting, different varieties of flowers and vegetables can transform your yard into the getaway you need. Find these items cheap or free whenever possible, repurpose them, and create the backyard of dreams following the principles below.
Pen and paper; how do I plan a backyard remodel?
One mistake some homeowners make before renovating is they do not plan. I know you are excited to get the project going, but if you start tearing down structures and installing items without planning. You will make a lot of mistakes, some of them costly. For instance, if you install a hot tub, build a greenhouse or an outdoor fireplace without a permit, you will have problems with local authorities. Currently, if you are in Alberta, you will need a permit to install:
Fences and retaining walls.
New plumbing and electrical connections.
Driveways, attached garages, covered decks, and porches.
Uncovered decks and balconies.
Secondary and backyard suites.
See the full list here.
Once you have all the potential legal issues accounted for, it's time to plan the space on paper.
How to renovate your yard on a budget
You have two options, one, hire a landscaping professional to help, or two, find inspiration from neighbors or friends or even the internet. If you hire someone, you may cut costs by helping.
What to prioritize in your yard?
Comfort, utility, and aesthetics are the most important qualities in a backyard. But, what you find aesthetically pleasing may differ from someone else's opinions. What remains is the universality of utility and the principles of comfort.
What are the principles of comfort in a backyard, and can you do it on a budget?
To successfully renovate your yard on a budget. You must have clarity of intention, and you must plan your purchases.
How to plan your backyard on a budget?
Balance, focalization, proportion, unity, rhythm, and line, and crucial of all, simplicity are the five principles of landscaping. Ideally, you want to create a space that; (1) is easy to navigate for you, your kids, and pets. (2) is safe, unified, and has a rhythm to it. (3) is perfectly proportioned. Why?
Unity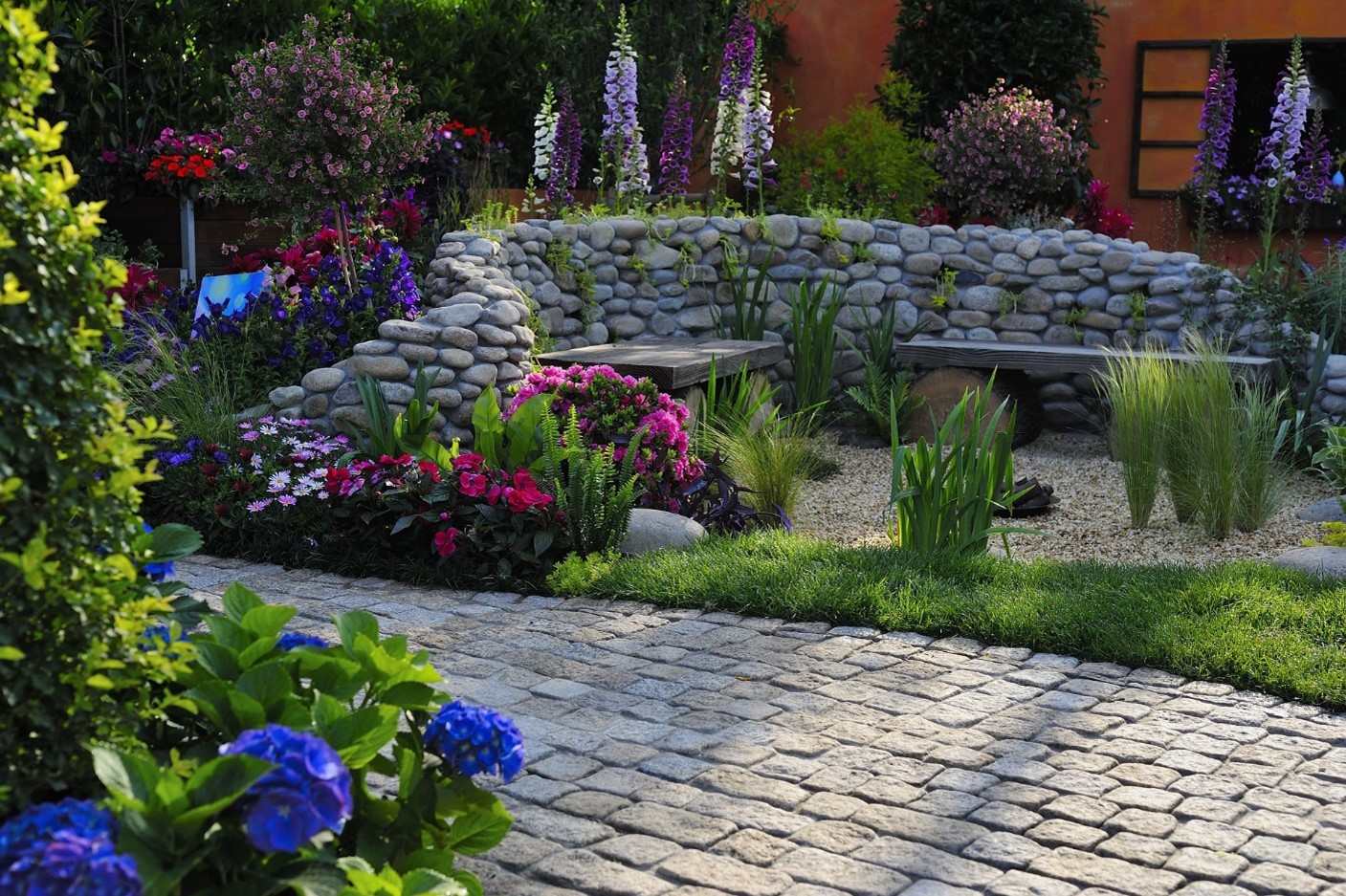 Unity is the easiest principle to measure but hardest to achieve without forethought. It involves picking colors, shapes, textures, sizes, lighting, and features that work great together.
What are the rules of unity?
Repeat key plants and a common color: color draws the eye. Consequently, strategic placement results in a backyard that is not only aesthetically appealing but also unified. To bring cohesion, cover at most 15% of your space with one color. Not in a continuous pattern but strategically. For example, your defined borders should feature the same color, or planters, furniture, and other "eye-grabbing" items should be the same color.
Unify your fences: how you fence and color your backyard will impact its unity. Therefore, your fence should either be hidden or the main focal point.
Hiding your fence with plants Vs making your fence standout
Plants that cling and climb will hide your fence, but you must make it easy for them to cling, climb, or twine. Use strings, or install trellis on your fence to support the plants. You may also install DIY arches, stakes, and so on.
If you choose to make your fence the focal point of your backyard, you should; use an easily stainable material, install a custom gate, and use plants or garden furniture that contrasts or complements the fence.
Remember, the principle of unity is your guide. So, ensure that everything feels unified.
Add Rhythm and Lines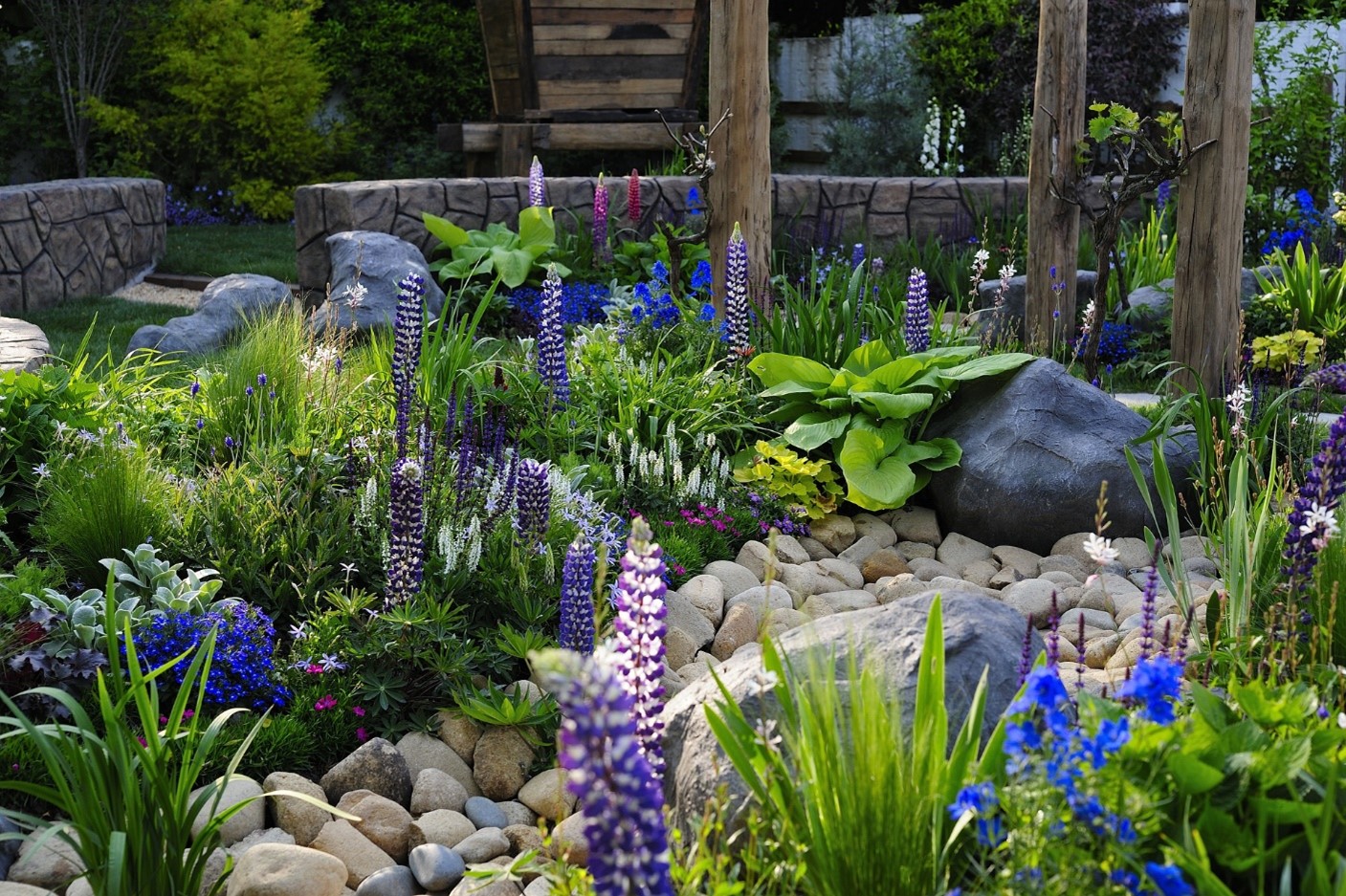 The principle of rhythm comes from the music industry, it is about repetition and creating a pattern that evokes a sense of movement. The question you must first ask -is how do the objects and plants in your backyard relate to one another?
What do you want people to see, and what don't you want them to see?
It is about creating patterns that tell a story, what do I mean?
From entry to exit, your backyard is a journey. It has pathways, maybe hidden areas, and a focal point. Could be your BBQ grill, pool, or any other centerpiece of your choosing. The idea is to:
Create visual flow using different materials, textures, and patterns.
Use repetition, alteration, inversion, and gradation to create a visual rhythm.
Use zig-zag pathways to create a sense of movement.
Create positive and negative spaces.
Match your home's interiors with your outdoor space, for example, if you have a modern home, create a garden with strong shapes and clean lines.
Use lines to define borders.
Focalization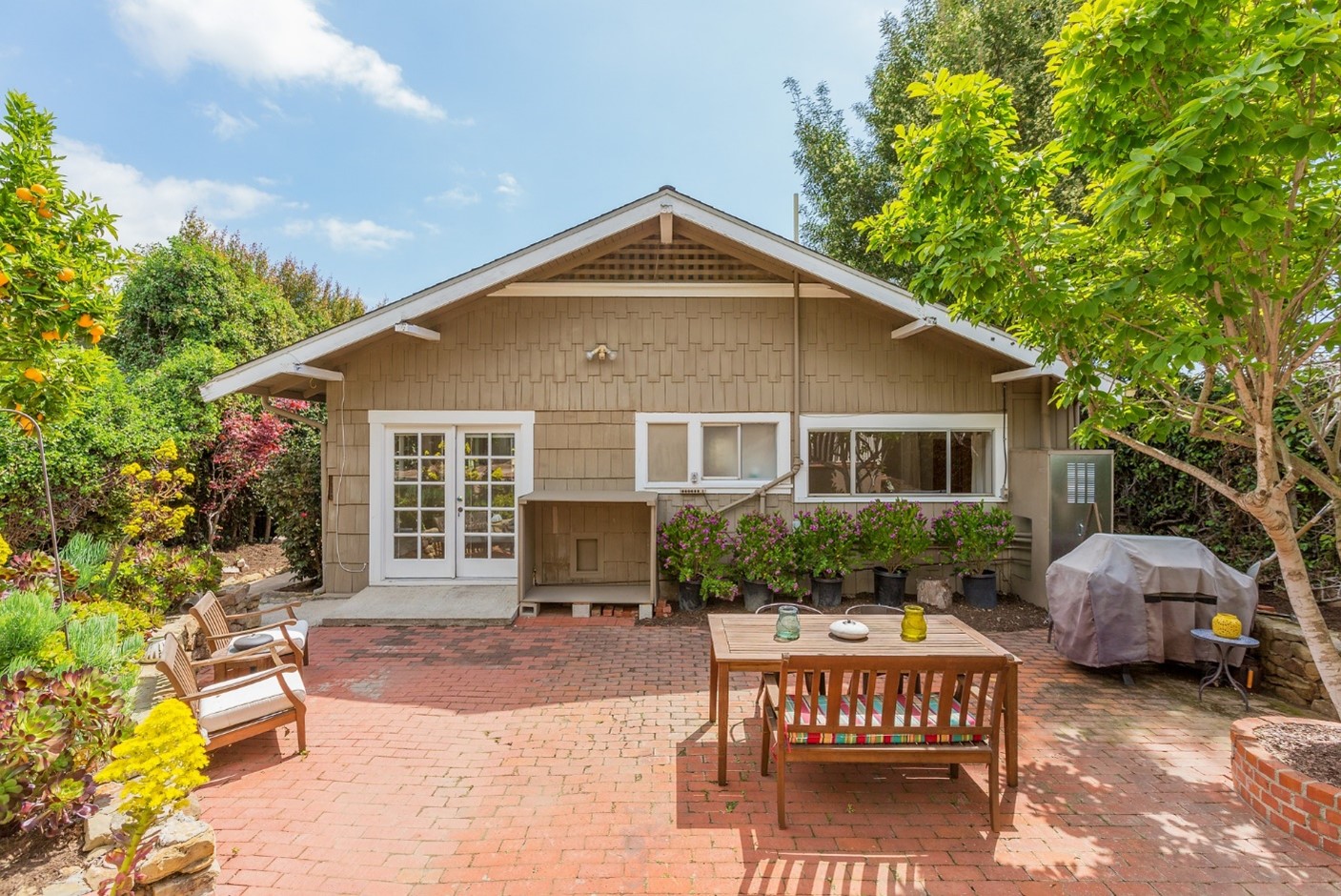 A focal point in a garden can be anything, it could be a tree, swimming pool, hot tub, plant, fireplace, or whatever you want it to be. The question is, how do you draw attention to it?
Size, shape, and texture
Normally, a focal point faces the point of entry, that is, it should be the first item anyone notices. It is not necessary that you have one focal point, what matters is the shape, size, texture, and color. The idea is to:
Highlight the best feature.
Do not overdo the focal point.
Install objects or plants that demand the viewer's attention.
Use aesthetics that stand out.
Focalization and rhythm work together to direct the eye. For instance, use lines or pathways to guide the viewer's eyes to the center point of your garden. If you have a large backyard, add some mystery by installing an entryway or creating a hidden section using screens. You may also add architectural fragments, layer your garden, add hidden water features, and whatever is within your budget.
Simplicity
The more plants, objects, and items you add to your garden, the harder it will be to maintain. So, keep it simple. The principle of simplicity in gardening is about eliminating unnecessary objects and details.
The rules to follow are:
Install plants and objects with a purpose or function. That means if it serves no aesthetic, agricultural, or other useful function, get rid of it.
Learn from your mistakes. If you are not a first-time Gardner, you know what works for your space and what does not, so use that knowledge.
Planning should take the most time. We recommend starting in winter so that when the weather clears out, you have clarity of purpose and unity of intention.
"Reduce" is the easiest way to guarantee simplicity. So, do not go overboard.
how to renovate your yard on a budget and plan your purchases
Remember that you do not have to buy or do everything in one go. Your garden is not going anywhere, so there is no harm in taking weeks, months, or even years working on it. The idea is to treat the project as a long-term or lifetime project.
Do you have a neighbor or friend that is into gardening or renovations?
If so, use the person's knowledge and experience to your benefit.
Top 4 landscaping trends for Alberta?
A walk around the streets of Alberta is one way to find inspiration for your garden. Currently, the top landscaping trends in Alberta include:
Trend 1: Outdoor Living Areas
A private backyard allows you to expand your living space, question is how do you make a backyard private on a budget?
Build a living wall/plant hedges around your property: that means covering your fence with plants. You may also install screens to increase privacy. We recommend herbaceous perennials, herbs, vegetables, and small shrubs.
Install a solid board fence, stone wall, or staggered wooden boards.
Trend 2: Interactive Play Areas
If you have kids or are planning to have kids, you should consider building an interactive play area.
Trend 3 Edible Garden
Planting an edible garden is beneficial in that it will provide your kitchen with herbs, fruits, vegetables, teas, berries, and so on. You may also use the space for enjoyment, relaxation, as a hobby, or as a getaway from your routine.
Trend 4: Night Lights
Night lights extend the enjoyment factor, while also improving aesthetics and increasing security. The options are limitless, so seek inspiration and unify technology and nature to create a seamless indoor to outdoor transition.
Do most of the work yourself
If you have free time and know your way around concrete, wood, and a hammer. There is no harm in doing the job yourself.
How much does it cost to renovate a backyard in Alberta?
In Alberta, the bulk of your renovation money will go into landscaping. But that depends on the condition it is in and how large the backyard is. Expect to pay anywhere from $100 to $50000 for landscaping. Sod installation on average will cost you $3000, lawn care $300 (for a one off, you may be able to find cheaper deals on a long term contract), yard clean-up, $300, and hedge trimming $1500.
Remember, the larger the yard, the more money it will take to renovate. So, we recommend consulting with a landscaper near you. If you're looking to sell consult one of our realtors to get the most bang for your buck.